When referring to the use of technology in Alberta's new curriculum Ms. Adriana LaGrange has said that students can code with "paper and pen", but it is obvious that Adriana LaGrange does not understand how technology works. Otherwise, she would not have let her domain name expire. This includes failing to renew the domain during the 41 day grace period.
Ms. LaGrange's draft K-6 curriculum is under a lot of public scrutiny for good reasons. One of the main reasons for the public backlash is because this draft curriculum is out of touch with the modern world that Albertans live in today.
Many educational professionals are calling for the curriculum to be thrown out and teachers have voted that they are not confident in Adriana LaGrange as Alberta's Minister of Education.
What you can do!
Alberta's educational curriculum is not a political issue, it's an Albertan issue. Whether or not you support Alberta's United Conservative Party, you should review the draft curriculum at:
https://curriculum.learnalberta.ca/curriculum/en
Submit your feedback on the curriculum at:
https://extranet.gov.ab.ca/opinio6/s?s=public2021EN
Send an email to your MLA letting them know of your feedback on the new curriculum. You can find the MLA in your riding at:
https://www.assembly.ab.ca/members/members-of-the-legislative-assembly
Most importantly: email Alberta's Education Minister and let her know how you feel about the curriculum and maybe let her know that her domain name expired. education.minister@gov.ab.ca
Leader of the Opposition Speaks
Jun 12, 2021 @ 12:11pm - Much has happened overnight, including the leader of the opposition (Rachel Notley) asking "who did this", and I have an answer. My name is Todd Willsie. I am a Cyber Security consultant, the president of Calgary's Extra Life guild (a group that raises money for Alberta Children's Hospital), and a creative director for Alberta-based creative gaming group (Endless Era Gaming). I am just an Albertan that wants our government to listen to us. I just so happen to also own the domain name adrianalagrange.com.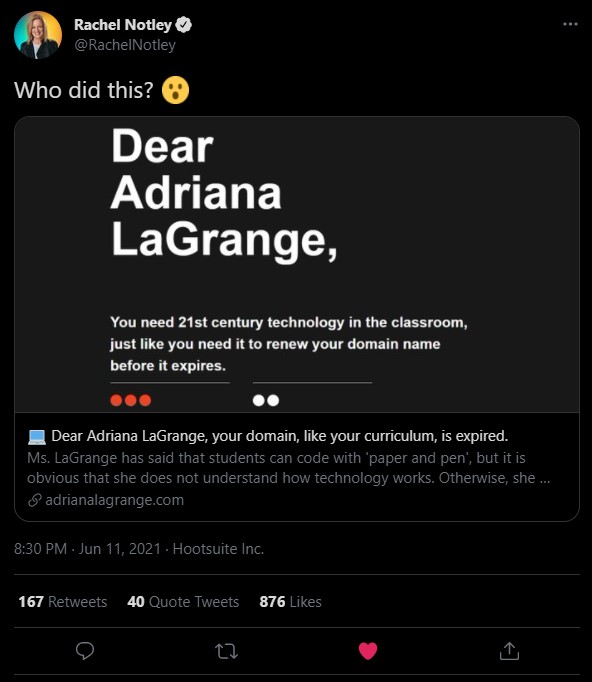 Adriana's Actions So Far
Jun 11, 2021 @ 3:10pm - Adriana LaGrange's social media profiles have now removed her old domain. While this is expected, I hope she finds it in her heart to donate to charity and get her domain back.